Condenser- and adsorption air dryer
An air dryer solves moisture problems invisible to you!
You wish to:
solve slippery floors?
prevent condensation and icing in the cold store?
ensure product quality during production and storage?
Then opt for an industrial air dryer!
Air In Motion has the knowledge and experience for industrial air drying. We advise and supply the correct drying solution for every specific situation.
Request a price for an AFIM® Dry dehumidifier?
Do you want to receive a price for an AFIM® Dry dehumidifier for your situation? Then complete the Price request. Within one working day you will receive the price for the solution with an AFIM® Dry dehumidifier from us.
For more information, please refer to the product page about AFIM® Dehumidifying.
Synonyms: adsorption, absorption dryer, air dryer, desiccant dehumidifier and sorption dehumidifier.
Check out the unique operation of the AFIM® Dry here:
Your benefits
Besides the specific improvement of the product quality, air drying provides the following advantages:
Less defrosting of evaporators: up to 30% energy savings by applying air drying at cold rooms and cold stores.
No condensation on walls and floors: by removing moisture from the air, to prevent condensation on walls and floors.
Improvement of food safety (HACCP): by controlling the moisture content preventing undesirable molds.
No slippery floors: causing accidents and costly damage by smoothness, will be prevented.
Animation WITH air dryer / dehumidifier
Application with: adsorption dryer / condenser dryer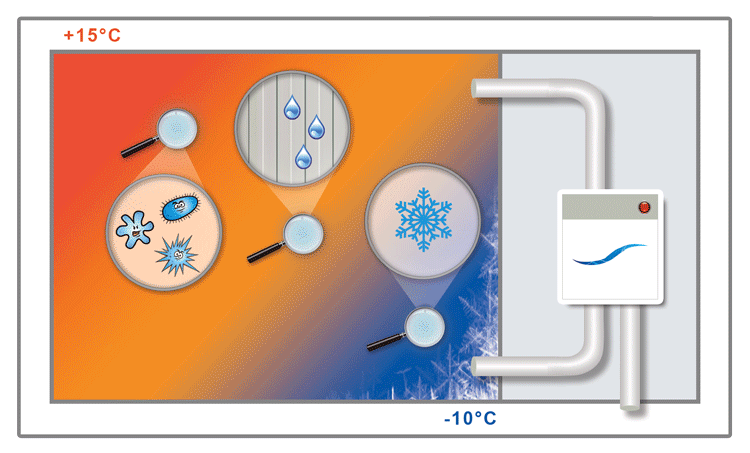 Animation WITHOUT air dryer / dehumidifier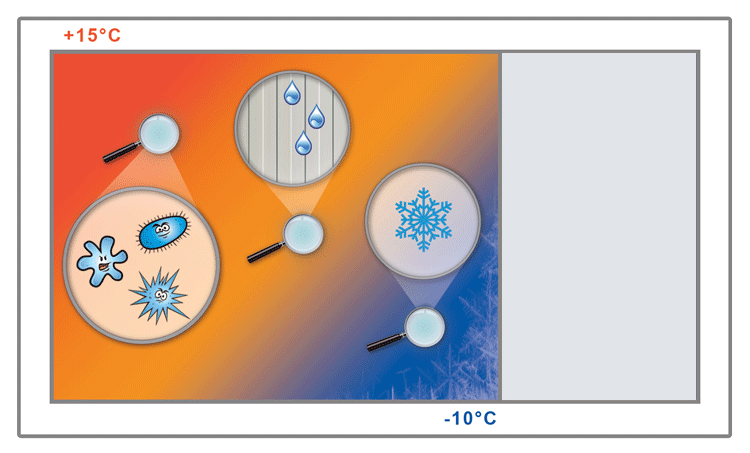 The techniques
There are several techniques available on the market, for drying / dehumidifying of areas. These solutions are realized by atmospheric air drying.
1. Desiccant adsorption dehumidifier
An adsorption dryer is used if a conventional air dryer cannot be used. This is the case when air drying is desired at a low temperature or at low humidity. Regardless of the air temperature, moisture from the ambient air absorbed by the adsorbent (silica gel), which is present in the rotor of the adsorption air dryer. The moisture is then discharged from the drying rotor via a separate air circuit.
Adsorption dryers are particularly useful in areas where:
low humidity is required (less than 40%)
there is worked at low temperatures (< 20°C)
or when there are low dew points necessary
2. Condenser dehumidifier
A condensation dryer / condenser dryer is used especially at ambient temperatures of > 20 ° C. The principle is based on the rapid cooling of ambient air so that the moisture is removed as condensation. Normally, the air is heated again after drying so that the room temperature does not go down.
Condensing dryers are particularly useful in areas where:
there are temperatures above 20 °C
no low dew point is required
Applications
An adsorption dryer is in a position to supply air to a very low dew point drying, that makes adsorption techniques especially suitable for the following applications:
Cold Rooms
Cold stores / freezers
Storage
Meat processing
Breweries
Wind turbines
Defense
Pneumatic conveying systems
Archive and museum
Product drying
Confectionery
Pump rooms
Water treatment
Processing of hygroscopic material
Pharmaceutical processing areas
Ice rinks and indoor ski centres
Bridge construction
Ships and shipyards
Power plants